Shipping Terms and Conditions

General
Orders normally ship within 1-5 business days after receiving payment.

Make sure your Telephone Numbers and address is correct upon check out.

Our Handling fee is included in the freight cost.
We use many different freight companies to ship our products.  It really depends on the size of your package.  Companies such as UPS, Fedex, R & L Carriers, Southeastern Freight and USPS.
Yes we ship to PO Boxes!  However, a package that exceeds the size limits by the USPS are shipped by other means.
Acrylic Orders Policy
Acrylic purchases will be shipped by either Fedex or Trucking company and will require a signature at the time of delivery.

Acrylic shipments must be inspected for damage at the time of delivery, no exceptions.  If acrylic is damaged, please refuse the shipment. 

If you accept delivery and later determine the acrylic is damaged, you cannot return it!  You have 48 hours from the time of delivery to file a concealed damage claim directly with the carrier.   

Do not remove the plastic protective film until acrylic has been fitted in your tanning bed.  If plastic protective film is removed then the acrylic cannot be returned.

If you make a mistake and order the wrong acrylic, you will be responsible for freight charges both ways and the acrylic must be returned in the original packaging.
Lamp Orders Policy
Lamps will be shipped UPS, Fedex or Larger Shipments by Truck.
You must inspect you shipment before signing for them.
If you order the wrong Lamps you will be responsible for freight charges to return the lamps and for a replacement shipment.
You MUST ACCEPT THIS PACKAGE REGARDLESS OF CONDITION!  If there is damage please note at the time of delivery.  If your the package is left at your door and there is damage please call 1-800-667-9189.  We will handle the claims process and immediately replace the damaged lamps at not cost to you.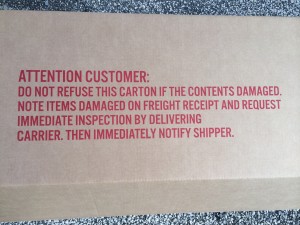 International Shipping
Yes, we ship Worldwide.  We cannot guarantee freight prices will be accurately calculated at the time of check out.  A representative will call you with the exact freight charges before the order is processed. Additional Duty, Taxes and Customs Brokers Fees will be given to you verbally before the order is processed.