Description
Bronzing Lamps Reflector used in most level 2 and 3 beds at your local salon.  Convert your bed to the latest technology in tanning lamps.  Qty 16 FR71-T12-100W-BP  FREE SHIPPING(within the continental USA only)
The Radiance Bronzing Reflector is the undisputed 'king' of the 100W reflector class. Massive UVA, balanced UVB and exceptional UV maintenance make the VLR the lamp of choice for high-performance equipment makers worldwide. Typical session times are 10-15 minutes and stunning results are achieved after only a few short visits.  With 16 lamp beds your spacing between the lamps in the bottom of the bed is pretty far apart, therefore if your really White these lamps may stripe you if you do not flip or wiggle during the session!
You will receive 16 of the following Lamps. If your bed takes Starters and/or Facial Lamps, you can purchased those below. For more details on this lamp package please read description below
| | | |
| --- | --- | --- |
| Description | | FR71 |
| Wattage | | 100 |
| Base | | Bi-Pin |
| UVA Flux (W) | | 28.0 |
| UVB Flux (W) | | 0.8 |
| Total UV (W) | | 28.8 |
| Rated Hours | | 800 |
| Typical Exp. Time | | 10-15 Mins. |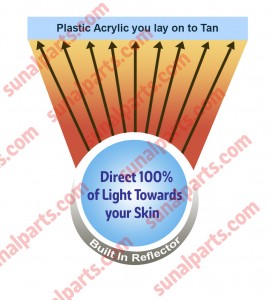 Bronzing Reflector Technology
Shipping:
Lamps will be shipped UPS, Fedex or Larger Shipments by Truck.
You must inspect you shipment before signing for them.
If you order the wrong Lamps you will be responsible for freight charges to return the lamps and for a replacement shipment.
You MUST ACCEPT THIS PACKAGE REGARDLESS OF CONDITION! If there is damage please note at the time of delivery. If your the package is left at your door and there is damage please call 1-800-667-9189. We will handle the claims process and immediately replace the damaged lamps at not cost to you.